GameSpy.com bekijkt het HomeCrafter programma
donderdag, december 23, 2004 - 22:00
GameSpy sprak kort met Sims 2 programmamaker Darren Futa om wat meer informatie te krijgen over het gratis programma.
---
Sims 2 HomeCrafter Plus Released to Gaming Community
By Dave Kosak
Custom-made wall textures, floors, and even outdoor ground cover is now possible for fans of Sims 2
Tuesday afternoon, as a kind of 'Christmas gift' to the Sims 2 fan community, Maxis and EA published the Sims 2 "HomeCrafter Plus" utility to the Sims 2 website. This new little gizmo allows gamers to finally paint their own wallpapers and floors for their in-game homes. Fans can also adjust outdoor terrain with just a few swipes of the mouse.
We chatted briefly with Sims 2 tools Producer Darren Futa to get a little more info on the free utility and what was coming next.
GameSpy: Will people be able to upload and download new floors and wallpapers in-game? Will people be able to put them on the exchange at Sims2.com?
Futa: If a Lot includes custom Walls/Floors/Ground Cover, then that custom content will be uploaded and downloaded along with it (both on TheSims2.com and in the game).
When we were planning this tool, we decided not to include uploading of individual Walls, Floors and Ground Cover for a few reasons:
1) Adding that feature would have meant a later release date, and we really wanted to get this to our players before Christmas; and
2) We are perfectly happy to see the bulk of this content get posted on our incredible fan sites. They do such a great job with creating and sharing custom content, we can't wait to see the new HomeCrafter stuff show up there.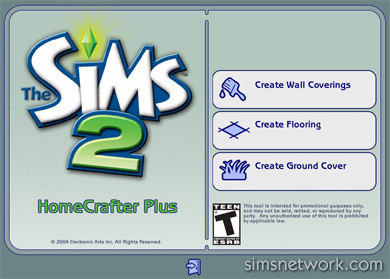 The HomeCrafter Plus is now available.
GameSpy: The Sims 2 community has been pretty active creating stuff since day one. What kinds of things most surprised you?
Futa: Almost every week, we get surprised by what's being done with the game. There are some really touching and funny movies that have been posted on our site, using really inventive angles, editing, and gameplay. Some players have figured out how to change the Create-A-Sim room while others have worked out a way to bring in custom paintings using the easel object. Something that is always close to my heart are all the skins and Sims that have been created using Body Shop. One player created an alien Sim that had a lizard-shaped head and detailed scaly skin. The best part was when I placed it in the game and created a child with a "normal" Sim, he came out half-lizard!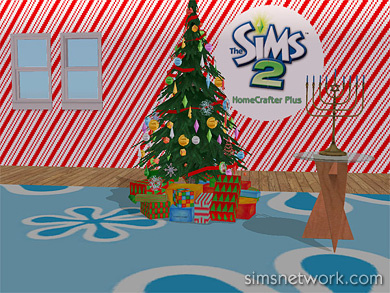 New textures? Done! Holiday objects are also available for simulated gift-giving.
GameSpy: That's a little bit touching and a whole lot creepy. Hey, what other tools can Sims fans expect in the future?
Futa: We can't talk about any specifics, but working on these tools for our fans will continue to be a priority. We have a lot of fun creating them, and even more fun seeing what the players make with them.
There you have it. Get painting!